Complete Credential Guarantee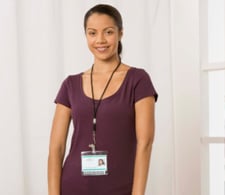 As a Joint Commission certified healthcare staffing agency, Quality Care Options guarantees that every nurse, direct care worker and healthcare professional staff we provide our clients is 100% credentialed. We offer this guarantee with confidence because our people go through the medical staffing industry's most rigorous and extensive credentialing process. With more than 50 mandatory credentials, annual reviews, professional education training, comprehensive background checks and much more— our nurses, direct care workers and other healthcare staff are the most qualified, exceptional healthcare professionals in the world.
Our standards follow the criteria set forth by The Joint Commission for Healthcare Staffing Services, so we can benchmark ourselves against the industry's very best.
Only the best can make the grade at Quality Care Options, because only the best are good enough for our clients.