6.5 Ways Temporary Healthcare Staffing Saves You Money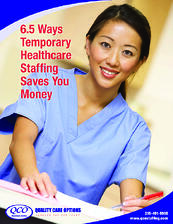 Providing patients with the best possible personalized care and attention is the number one priority for every medical facility. Of course, with the rising cost of healthcare, facility managers and administrators are in search of ways to cut costs without compromising the level of care that their patients expect and deserve.
With that careful balance in mind, we've compiled the following list of 6.5 ways that temporary healthcare staffing saves medical facilities money while maintaining the high-quality care expectations of patients and their families.