CareCheck™ Follow-up Call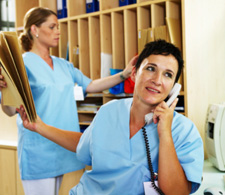 When we send one of our nurses, direct care workers or healthcare professionals to a client-requested placement, we are confident that we've provided a dedicated, well qualified candidate to get the job done right. We screen our people well and credential them thoroughly, which is why we are recognized as one of the top Pennsylvania medical staffing agencies. But when it comes to providing the best possible service and care for you and your patients, we don't leave anything to chance.
Each long-term or temporary staffing placement handled by Quality Care Options features our exclusive follow-up call after the first shift has been completed. This quality control check-in is placed for both clients and contracted healthcare professionals. The CareCheck follow-up call ensures that both clients and contractors are happy with our services and that our commitment to quality placements remains strong. If there is ever any problem with the client/staff relationship, Quality Care Options will remedy it immediately.